Start-up Uzbek carrier Centrum Air is aiming to build a fleet of 20 aircraft by the end of the year, having acquired its first single-aisle types.
Centrum Air has received a pair of Airbus A320s – with a third set to arrive shortly – as well as two Boeing 737s.
The carrier is based at Tashkent, the Central Asian country's capital, and plans to serve domestic and international routes as a low-cost airline.
Centrum Air says its expansion to 20 aircraft this year is part of an ambitious plan to have 100 by the end of 2026.
Promotional material from the airline indicates that the initial A320 fleet includes the airframe YL-GET leased from Lithuania's GetJet Airlines.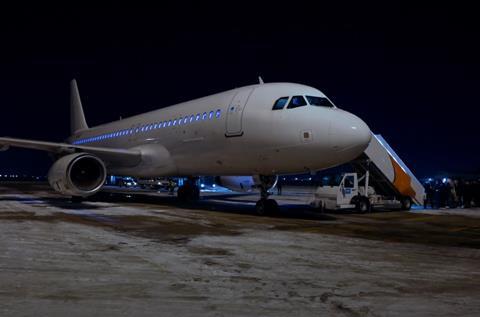 Chief executive Abdulaziz Abdurakhmonov says economic reform by the government, including support for private transport sector companies, encouraged the decision to set up the carrier.
"Establishing a low-cost airline will enable many more people to enjoy the benefits of air travel and help to develop connectivity domestically, in the region, and internationally," he adds.
Centrum Air has outlined plans for services to 15 countries, among them Saudi Arabia, the United Arab Emirates, Turkey, Egypt, India and South Korea.
It will also operate domestically to Nukus, Urgench, Termez, Namangan and Fergana.
The company says it is seeking "additional foreign investment" to support its "revitalisation" of the country's civil aviation industry.
Centrum Air has a sister operation, My Freighter, which has taken delivery of a Boeing 747-200 cargo aircraft.
This airframe (UK47088) was originally delivered to Nippon Cargo Airlines in 1985 and operated by carriers including AirBridgeCargo.