Ukraine's infrastructure ministry is considering ordering five Antonov An-158s for the initial fleet of the new national airline.
Contracts are expected to be signed in the first or second quarter of 2022, says state strategic concern Ukroboronprom.
Infrastructure minister Oleksandr Kubrakov and Ukroboronprom general director Yuri Gusev disclosed the plan during a joint briefing, following the recent government statement that it would set up a new carrier under the working name Ukrainian National Airlines.
"Ukrainian National Airlines, the sole owner of which is the state, needs different classes of aircraft," says Kubrakov.
"For regional and medium-haul traffic, we are considering the An-158, which is ideal for flights within Ukraine."
He says that Ukraine is one of a few countries that can manufacture aircraft.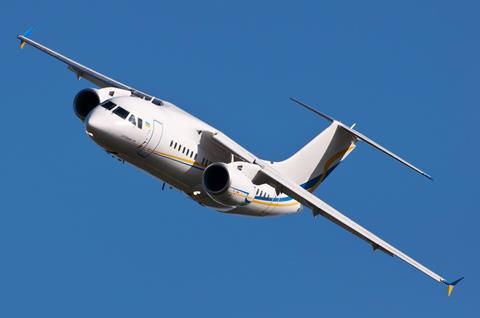 "We expect that the contracts will be signed directly between Antonov and Ukrainian National Airlines," says Gusev.
He says the company is "ready to build" five of the 99-seat An-158s to supply the carrier over the next three years.
Ukroboronprom claims an agreement for the An-158s could help revive serial aircraft production in the country.