All Nippon Airways' parent company ANA Holdings ended its first half of fiscal 2020 deep in the red, as it forecast a record full-year net loss of Y510 billion ($4.7 billion), citing a "significant decline" in passenger travel demand.
The group also expects to book significant impairment losses – to the tune of around Y73 billion – for the year, due to "large-scale retirement of aircraft", as part of plans to overhaul its business model which will also see a new medium-haul, low-cost carrier being set up.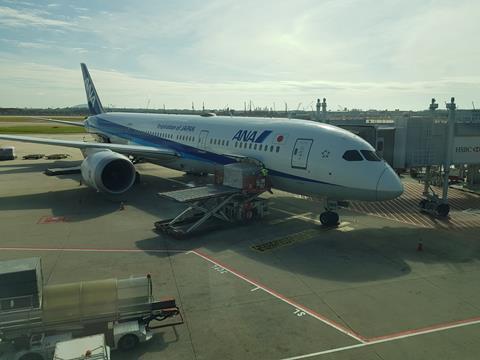 Explaining its forecast for the full year ending 31 March 2021, ANA Holdings states that even though demand appears to be recovering in the second half of the financial year, it "is not expected to return to the level of the previous year".
"Meanwhile, operating revenues have suffered a significant downturn and profits of the year are significantly lower than those for the year ended March 31, 2020, despite efforts to cut variable costs by curtailing the scale of flights and to also making savings on fixed costs such as personnel and aircraft expenses," the company adds.
ANA's forecast of a steep loss is despite reporting signs of "dramatic recovery" for the second quarter of fiscal 2020.
For the six months ended 30 September, ANA Holdings reported an operating loss of Y281 billion, reversing the Y79 billion profit it made during the same period last year.
This was led mainly by a collapse in revenue, which saw a 72% year-on-year decline, to Y292 billion. Expenses, while also on the decline, fell just 41% year on year to Y573 billion.
ANA Holdings reported a consolidated net loss of Y188 billion, a contrast to the Y56.7 billion net profit it recorded last year.
Of the various business segments, air transportation fared among the worst, with revenue plunging more than 74% year on year.
International passenger services saw revenue falling more than 94% year on year. During the period, mainline carrier ANA carried just 193,000 passengers, a 96% decline compared to the same period last year.
ASKs and RPKs for the period also fell sharply, at 84% and 95% respectively.
ANA cited the presence of travel restrictions globally as among the reasons for a steep decline in international travel demand. It only operated 15.6% of normal capacity during the period.
On the domestic front, ANA did not perform much better either, with revenue for the sector tumbling 79% year on year to Y78.9 billion.
The carrier flew 4.7 million domestic passengers for the period, an 80% year-on-year decline. ASKs fell 61%, while RPKs plunged 80%.
Still, ANA notes that domestic air traffic showed signs of recovery, especially after the state of emergency was lifted in Japan in June, and more domestic flights were reinstated.
ANA's low-cost unit Peach Aviation, meanwhile, also reported steep decreases in its passenger traffic data for the period. It reported revenue of Y8.4 billion, an 82% year on year decline.
Peach also carried just 817,000 passengers, 80% lower compared to the same quarter last year. ASKs fell 64%, while RPKs plunged 82%.