ANA Holdings will raise up to Y332 billion ($3.2 billion) through a share offering, with the proceeds to fund aircraft purchases and pay down debts.
Of the funds raised, Y200 billion will be used through 31 March, 2023 for medium and long-term growth, include the acquisition of Boeing 787-9 and -10s, says ANA Holdings, the parent of All Nippon Airways.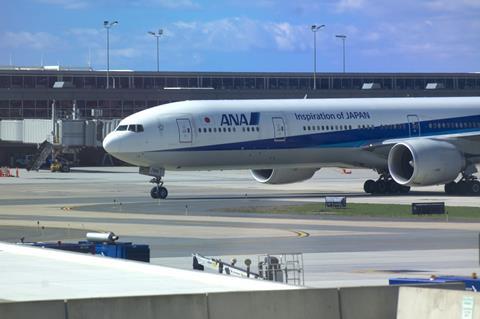 Any remaining funds will be used to pay down long-term debt "in order to strengthen the company's financial soundness for enhanced risk tolerance".
In all, ANA Holdings will issue 126 million shares, including 91.3 million in a Japanese public offering, 30.4 million in an international offering, with an option of 4.6 million additional shares for international underwriters.
In October, ANA announced that it expects an operating loss of Y505 billion for the current financial year ended 31 March 2021, mainly due to the collapse in international travel owing to the coronavirus pandemic.
It also said it would retire additional widebodies from its fleet and create a third airline to serve alongside ANA and low-cost unit Peach. The new airline, based on the existing Air Japan, will use 787s with 300 plus seats for low-cost, medium-haul flights to Southeast Asia and Oceania.
For the six months to 30 September, ANA's operating revenues fell 72% to Y291.8 billion, while it swung to an operating loss of Y280.9 billion and a net loss of Y188.4 billion.