AirJapan, the newly-launched medium-haul unit of Japan's ANA Holdings, will commence operations in February 2024, flying to unspecified points in Southeast Asia.
The disclosure of the launch date comes as AirJapan unveils a number of products and services, including cabin products on its fleet of Boeing 787s.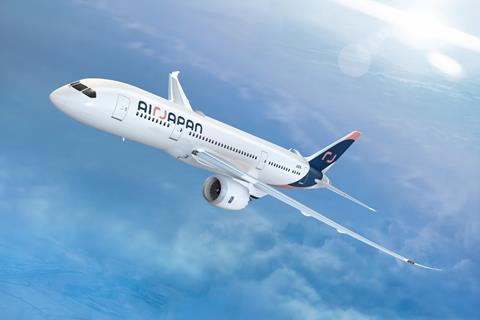 The airline's launch comes more than three years since ANA Holdings first disclosed plans for a new airline unit targeting the medium-haul, low-cost segment, as part of a "structural business reform" amid a collapse in passenger traffic during the coronavirus pandemic.
AirJapan's launch was delayed in 2022 amid a tepid international traffic recovery, and as Japan remained largely shut off to foreign arrivals.
In a business strategy presentation in February, ANA Holdings says AirJapan is expected to "capture inbound demand…by launching flights to major cities in Southeast Asia, where the market opportunity is large and growing". The new unit will offer the group a "competitive advantage" by "leveraging the ANA Group's LCC knowledge to achieve high business efficiencies along with quality".
AirJapan will operate a fleet of 787s, configured to seat 324 passengers in an all-economy layout.
The seats, which will be manufactured by Safran, will not feature inflight entertainment screens, but will instead have tablet holders.
The seating layout differs from that of competitor Zipair, also a medium-haul operator owned by Japan Airlines, which has a mini cabin of lie-flat seats on its 787s.
AirJapan also revealed its crew uniforms, which it says will allow cabin crew "flexibility to dress in their own unique way", through a choice of footwear and bottoms.