Australia's Regional Express Holdings is to take over National Jet Express, the regional services arm of Cobham Aviation Services Australia.
National Jet Express provides fly-in, fly-out services in the south and west of the country, and also operates domestic freight flights out of Sydney to various cities.
The carrier uses a fleet of eight De Havilland Dash 8-400 turboprops and six Embraer 190 regional jets. Cobham phased out its last BAE Systems Avro RJ aircraft in early June.
Regional Express, known as Rex, will purchase the carrier for A$48 million ($32 million), adding that it generated revenues of A$142 million last year.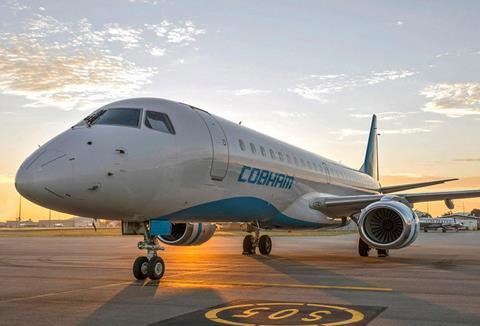 Rex will fund half the acquisition price through a mix of its own cash and by drawing down another A$15 million from a convertible note facility with investment firm PAG.
The other half will be provided by private funds from joint-venture partners, who will convert debt to new equity, reducing Rex's debt burden.
Rex says it will ultimately hold 50% of National Jet Express with its joint-venture partners having the balance.
The acquisition will enable Rex to be involved in the "booming" fly-in, fly-out sector in Australia which, says executive chair Lim Kim Hai, is "expected to experience strong growth".
He states that National Jet Express – with its modern regional fleet – will become the "partner of choice" for resource companies who want a flight provider that can offer safety, reliability and comfort, while minimising environmental impact.
Rex says the acquisition remains subject to regulatory consideration but the company does not expect shareholder approval to be required.