Austrian Airlines is to reconfigure its Boeing 777-200ER fleet, shifting the balance away from business-class accommodation in favour of premium-economy.
It will remove six business-class seats from each of its six aircraft, in order to increase accommodation in the other cabins.
Austrian's 777s are currently fitted with 306 seats comprising 38 in business-class, 24 in premium-economy and 244 in economy.
But the carrier says it is seeing an "increasing demand" for premium-economy travel, and will expand this cabin to 40 seats.
It will also fit another 14 economy-class seats to each aircraft.
Austrian tells FlightGlobal that it will remove six business seats as part of the reconfiguration, giving an overall net increase of 144 seats across the 777 fleet.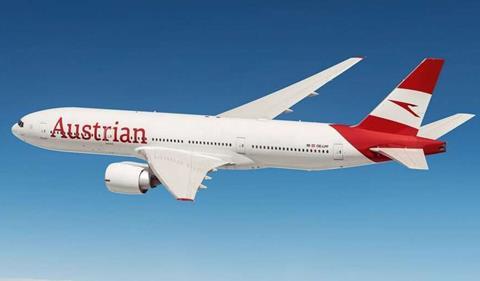 The Lufthansa Group airline says its premium-economy cabin has "become a product highlight" with "increasing popularity" among both leisure and business passengers.
"By modifying our long-haul fleet, we are meeting the growing demand for more travel comfort," says Austrian chief commercial officer Michael Trestl.
Austrian will start the refit early next year and complete the change across the fleet by May 2023.