Latin American operator Avianca is to capitalise on Airbus A321 converted freighter capability with an agreement to lease or charter up to five aircraft from Global Crossing Airlines Group.
Global Crossing will provide an initial A321 freighter – the first to be operated by a US carrier – to support Avianca Cargo's North and Latin American network.
"With this, we will expand our capacity in specific markets, offering more options and products," says Avianca Cargo chief Gabriel Oliva. The agreement allows Avianca Cargo to wet-lease or charter up to four more freighters over the next five years.
Avianca is a "great and storied" brand in aviation and, through the agreement, will be able to provide freight service to smaller markets as well as feed its main hubs, adds Global Crossing chief Ed Wegel.
The company has established a new division, XCargo, for freight activities. It says it has 13 firm agreements with lessors and seven additional commitments to acquire passenger A321s and convert them to freighters.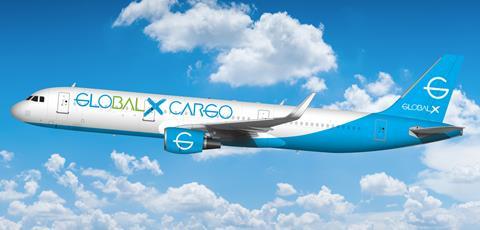 All the aircraft will be converted and brought to market between October this year and the end of 2024.
Global Crossing, which also brands itself as GlobalX, is an emerging A320-family operator whose business includes wet-lease and charter for passenger services within the USA, and to the Caribbean and Latin America.
It is aiming to build a fleet of 50 aircraft by the end of 2025, evenly split between passenger and freighter types.