British Airways is to axe its premium Airbus A318 transatlantic service from London City to New York JFK, as part of its re-organisation to deal with the air transport crisis.
The operation had already been halved to a single aircraft, after BA transferred the other A318 used on the route to Titan Airways three years ago.
But BA says that it will "no longer operate" its business-class service – which flew via Shannon to JFK – as it adapts to the fall in passenger demand triggered by the coronavirus pandemic.
The airline's parent company, IAG, had hinted that the service would be shelved in its second-quarter briefing which described "right-sizing" changes in the BA fleet.
It highlighted the withdrawal of the Boeing 747s and temporary grounding of four Airbus A380s and up to six Boeing 777s, and a rejig affecting some 30 other single-aisle aircraft.
But it also referred to an "exiting" of the A318 fleet. BA only has a single A318 (G-EUNA), the jet used for the London City-JFK route.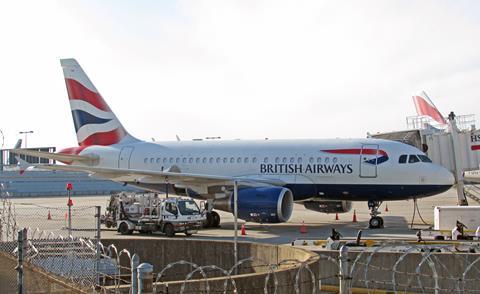 BA took delivery of this A318 – its first – in August 2009, with FlightGlobal exclusively participating in the ferry flight from Hamburg Finkenwerder.
The airline introduced the 32-seat aircraft on the transatlantic link the following month, using the prestigious flight number BA001 previously reserved for its supersonic BAC-Aerospatiale Concorde services on the North Atlantic.
The A318 operation was designed to attract business passengers through the convenience of a connection from the downtown London City airport, situated adjacent to the business district in the east of the UK capital.
Although the A318 did not have the range for a non-stop JFK flight, against the prevailing westerly air currents, BA managed to combine a fuel stop in Shannon with an external customs clearance that effectively turned the Shannon-JFK sector into a domestic US hop, speeding the exit for passengers upon arrival in New York.
It increased the frequency to twice-daily with a second A318 and maintained this operation until 2016 when it revised the service to a daily connection, eventually shifting the other A318 (G-EUNB) to Titan.
BA's A318s were the last two of the variant to be delivered to an airline customer – the handful of deliveries which followed were all to private and executive organisations.
It had intended to operate a batch of 12 A318s after placing an order for the jets with the Pratt & Whitney PW6000 engine.
But development of the PW6000 was beset by problems, and BA subsequently cut back the A318 order, through conversions and cancellations, axing its commitment entirely in 2002. The two A318s eventually ordered for the London City transatlantic service were both powered by the rival CFM International CFM56 engine.