One of the British Airways Boeing 747-400s painted in a retro livery for the airline's centenary is to be preserved as a cinema and conference venue.
The aircraft (G-CIVB) carried the Negus & Negus colour scheme initially adopted by the airline following its emergence in 1974 from the merger of BOAC and British European Airways.
It combined an updated version of the Union flag scheme of BEA on the fin with the 'Speedbird' logo of BOAC on the nose. G-CIVB was one of four 747-400s painted last year to mark 100 years since the first flights in 1919 by British Airways legacy airline AT&T.
British Airways says G-CIVB – one of the last pair of its 747s to leave London Heathrow on 8 October – will be permanently based at Cotswold airport, south of Gloucester.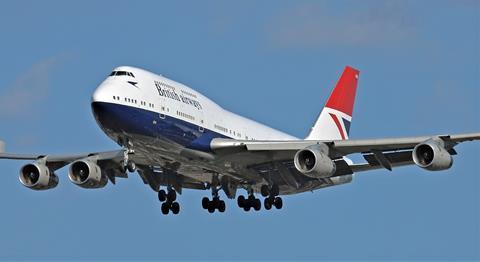 Kemble Air Services, the operator of the airport, says it signed a contract on 23 October to purchase the aircraft. It will convert part of the interior into a cinema, business and conferencing centre, and private-hire venue.
It expects the aircraft will be open to the public from spring 2021, and intends to use part of the proceeds from events to support aviation-related scholarships.
"We're glad Cotswold airport is able to give one of these aircraft a new home and a new lease of life," says new British Airways chief executive Sean Doyle.
G-CIVB operated nearly 13,400 flights after joining the airline's fleet in February 1994.
British Airways has already disclosed that another 747-400 is to be stationed at Dunsfold airport for film and television work.