British Airways is unlikely to invest in zero-emission aircraft with fewer than 70 seats in order to prove their viability, preferring to wait until a solution is found for narrowbody-sized jets, according to the carrier's sustainability chief.
BA examined the fleet and network implications of introducing green aircraft into its operation as part of the induction of novel powertrain developer ZeroAvia into its Hangar 51 technology accelerator programme, says Carrie Harris, the airline's director of sustainability.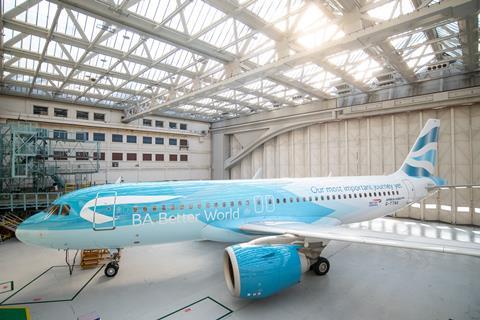 "The expectation at the moment is that we start with smaller aircraft and gradually scale up from the research perspective," she told ZeroAvia's hydrogen summit event on 30 November.
"But when we looked at it for our operation it's not really viable," Harris says, with the carrier "remaining focused on the 70-plus-seater."
While such an aircraft "could operate from some of our smaller hubs like London City", BA would still require an aircraft "with above 70 seats", she says.
In the interim, hydrogen propulsion may be introduced on short commuter or island-hopping routes, Harris says, adding: "But what I'm really hoping for is that we see a breakthrough and get the opportunity to potentially retrofit [the technology] onto existing airframes.
"I'm open-minded, but I think for our operation we are definitely more interested in a like-for-like replacement of single-aisle, short-haul aircraft." BA has previously invested in ZeroAvia.
Val Miftakhov, chief executive of ZeroAvia, promises that its zero-emission powertrain for a 70-seat aircraft will be available from 2027.
"But I do hope that we will have a number of initial routes that we can start demonstrating earlier, even with major carriers, on with smaller aircraft."
ZeroAvia's focus has been on developing hydrogen fuel cell-based powertrains, but Miftakhov sees strong potential for that technology to be combined with hydrogen combustion in a turbine engine to deliver a solution suitable for narrowbody-sized aircraft, at least in the medium term.
"If you think about how you can practically power a single-aisle aircraft, it's probably a combination of a turbine and fuel cell operating off the same [hydrogen] fuel."
In that configuration, the fuel cell-powered electric motors would provide most of the propulsive power, while the turbine would be used for "power assists".
"It doesn't really matter what drives the propulsors", he says. "If we have a way to drive it, we'll drive it in the least climate impactful way."

Dominic Perry is deputy editor of Flight International but also contributes extensively to flightglobal.com. Although specialising in the coverage of the helicopter industry, he has written on most topics in aerospace – be they commercial, defence or business aviation. In addition, there has been an increasing focus on the decarbonisation of the industry and zero-emission flight initiatives.
View full Profile