Bangkok Airways will resume its hunt for a new narrowbody aircraft as Thailand's air travel recovery picks up speed.
The airline's fleet of Airbus A319s and A320s is suffering serviceability issues owing to a lack of spare parts, and the decision on a replacement could be made in 2023 or 2024, according to Bangkok Airways chief executive Puttipong Prasarttong-Osoth.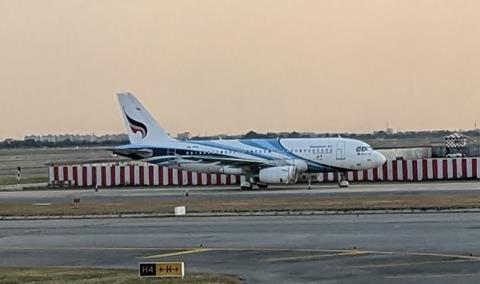 "Replacement plans are still there, but during the pandemic everything ceased," says Prasarttong-Osoth. "But now we have to consider what we are going do with our new fleet. Within the next year or the year after we may have to do something to replace the A319."
Prasarttong-Osoth spoke with FlightGlobal at the recent Association of Asia Pacific Airline's 66th Assembly of Presidents in Bangkok.
A key consideration for Bangkok Airways is the single 2,100m runway at its most important destination, the resort island of Koh Samui.
Prasarttong-Osoth says the airline has about 37 aircraft divided equally between A320 family jets and ATRs. Four aircraft are likely to leave at the end of 2022 as their leases expire. The fleet had about 40 aircraft before the coronavirus pandemic emerged in early 2020.
Cirium fleets data suggests that the carrier has 13 in-service A320 family jets, with eight in storage. The average age of the overall A320 family fleet is 16.1 years, while the average age of the 13 A319s is 15.6 yea
Prasarttong-Osoth adds that Bangkok Airways is benefiting from the return of codeshare traffic with the resumption of air travel to Thailand. Before the pandemic, Bangkok Airlines worked with several international carriers, providing an onward journey to Koh Samui and other leisure destinations, such as Phuket.
In the third quarter, following Thailand's reopening earlier this year, the airline has launched new routes, such as Bangkok-Hat Yai and Koh Samui-Hat Yai, and resumed several domestic services.
The quarter to 30 September saw the carrier swing to a Bt75 million ($2.1 million) operating profit on sharply higher revenues – its first operating profit since the start of the pandemic. It also narrowed net losses to Bt393 million, compared with a net loss Bt7 billion a year ago. Crucially, quarterly load factors jumped 41.8 percentage points to 77.2%.
Prasarttong-Osoth adds that Bangkok Airways aims to re-launch services to regional destinations such as Da Nang, Luang Prabang, and Siem Reap.
Given that Chinese codeshares were never a key element of the carrier's business, the airline has seen little effect on the collapse in Chinese visitors to Thailand.
Looking forward, Prasarttong-Osoth is concerned about high fuel prices. In addition, the strength of the US dollar creates challenges, as well as weak currencies in key overseas markets, such as the United Kingdom, which damps demand for international leisure travel.