Belarusian flag-carrier Belavia has taken delivery of its first Boeing 737 Max, one of five of the re-engined type intended for the airline's fleet.
The Max 8 aircraft (EW-528PA) arrived in Minsk on 8 April, having flown from Seattle via Reykjavik.
It was acquired through US lessor Air Lease under an agreement signed in mid-2018.
Belavia says it will deploy the jet initially on its "most popular" connections but adds that the greater range of the Max will enable the airline to expand its network to cover new routes.
The 174-seat aircraft is configured in two classes including 12 seats in the business cabin.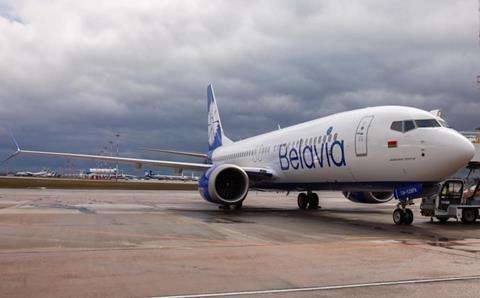 Belavia will use the Max to replace its 737-300 and -500 fleet, and complement its 737-800 operations.
"[The aircraft is] more environmentally friendly and cost-efficient," says Belavia director general Igor Cherginets. "This will allow us to do what is so expected of us – reduce the cost of air tickets."
He says the airline's pilots initially completed training for the Max a year ago but are undergoing a new round of training exercises.
"This also concerns the technical personnel," he adds. "They are retrained and confirm their readiness for maintenance of this type of aircraft."