Belarusian operator Belavia has receive its first Embraer 195-E2, one of three to be leased to the Minsk-based flag-carrier.
Belavia is already an operator of the conventional 195 and 175 regional jets manufactured by the Brazilian airframer.
It is leasing three of the re-engined E2s from AerCap. The aircraft is fitted with Pratt & Whitney PW1900G powerplants.
"We like to keep our fleet young and fresh," says Belavia chief Anatoly Gusarov. "With the addition of the E195-E2 we can take more passengers, further, in greater comfort, and more efficiently. The E2 is the perfect fit."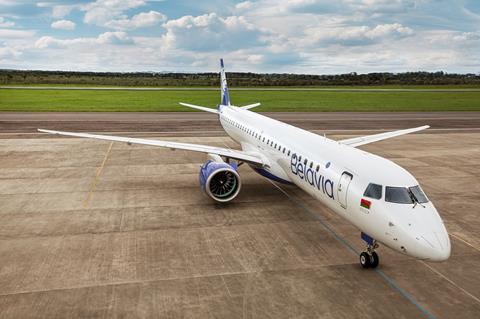 Embraer says the airline took delivery of its first on 21 December. It features a 125-seat configuration in two classes, including nine seats in the business cabin.
Belavia plans to deploy the aircraft on routes such as London, Barcelona, Nur-Sultan, Munich, Paris, Sochi, and Amsterdam.
Its fleet also includes several Boeing 737 variants as well as Bombardier CRJs.