Swedish carrier Braathens Regional Airlines is claiming to be the first to operate services with the maximum-permitted blend of sustainable aviation fuel.
BRA, which uses a fleet of ATR 72s, will conduct two flights weekly between Gothenburg and Lyon, on behalf of automotive firm Volvo Group, from autumn this year.
The flights will be conducted with a 50% blend of sustainable fuel, the upper certified limit for commercial aircraft.
BRA claims the route will be the first commercial services in the world flying with such a blend.
Volvo Group personnel will be able to travel between the company's headquarters and the Renault corporate centre in Lyon.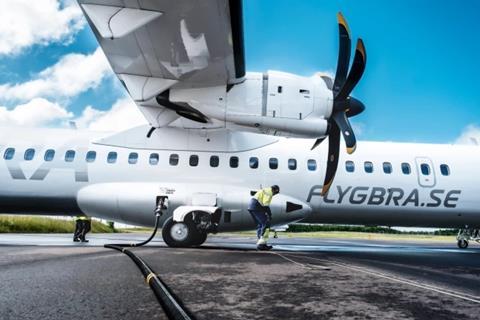 "With this flight route, we will achieve a reduction in carbon dioxide emissions by at least 40% from day one," says BRA chief commercial officer Martin Erkenborn.
"Our hope is that this is just the beginning, and together with our corporate customers we can have several routes with similar solutions."
BRA adds that it is collaborating with ATR and fuel producer Neste to accelerate the process of certifying flights with wholly-sustainable fuel.