British Airways is proposing a restructuring programme which, it warns, could result in up to 12,000 redundancies.
The IAG-owned carrier states that it has notified its trade unions about the measure and – while it remains subject to consultation – the proposal is likely to affect "most" of the UK airline's employees.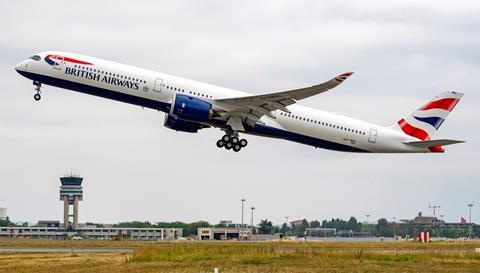 It furloughed over 22,600 personnel in April. But BA says it is preparing for the expectation that the recovery of passenger demand to last year's pre-coronavirus crisis levels will "take several years".
UK cockpit union BALPA says the disclosure has "come as a bolt out of the blue", adding that the flag-carrier's personnel are "devastated".
"BALPA does not accept that a case has been made for these job losses and we will be fighting to save every single one," it insists.
Over the first quarter IAG turned in an operating loss of €535 million, and it has taken an exceptional charge of €1.3 billion on its pre-tax profit arising from ineffective fuel and currency hedging.
All of the reduction in the operating result for the quarter occurred in March, says the company. BA bore the majority of the impact, followed by Iberia and Aer Lingus. Spanish budget carrier Vueling experienced a "modest increase" in operating loss, says IAG.
IAG adds that it expects its operating loss for the second quarter to be "significantly worse", given the collapse of passenger traffic and despite a degree of relief from the government on staff costs.
Passenger capacity in April and May has been cut by 94%. IAG conducted some 350 cargo-only flights in the month to 26 April.
"Capacity from June will depend on the timing of the easing of lockdowns and travel restrictions by governments around the world," the company adds.
Total cash and undrawn aircraft finance facilities amounted to €9.5 billion at the end of March, including €6.95 billion of cash, cash equivalents, and interest-bearing deposits. IAG is set to detail its results for the quarter on 7 May.