Brussels Airlines will grow its European operations by 10% year-on-year this summer, after signing an agreement to wet-lease two Bombardier CRJ900s from CityJet and taking delivery of two additional Airbus A320s.
Lufthansa Group's Belgian unit says it will wet-lease a pair of CRJ900s from CityJet between 26 March and 28 October. It will use the aircraft to operate flights from Brussels to nine European destinations, including Bordeaux, Geneva, Lyon, Milan and Vienna.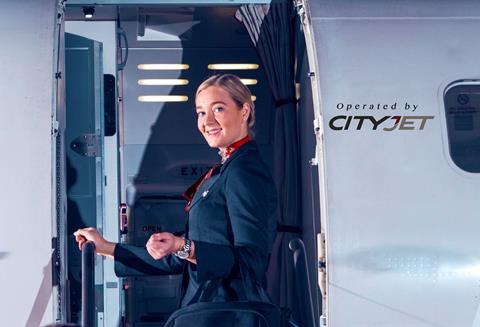 The agreement will enable Brussels Airlines to add Billund in Denmark to its network and boost frequencies to Berlin, Birmingham, Copenhagen and Hamburg.
"This co-operation allows us to grow our fleet in a flexible manner and increase our European offer," says Brussels Airlines head of network strategy and planning, Jan Derycke.
In addition to the wet-leased CRJ900s, Brussels Airlines will take delivery of two more A320s this summer. It will add the jets to its permanent fleet, which will expand to include 36 medium-haul and nine long-haul aircraft. The A320s will be deployed across the carrier's medium-haul network, with a focus on new destinations such as Djerba and Monastir in Tunisia.
"With this fleet and network expansion, Brussels Airlines is achieving its targeted growth three years ahead of schedule," says Derycke.