Lufthansa Group carrier Brussels Airlines has unveiled a new colour scheme and logo as it embarks on the post-crisis recovery track.
The Belgian airline says the livery is a "visual token" of its "new chapter".
Brussels Airlines has opted for a largely white fuselage, dropping the dark blue vertical fin. The carrier has shown off the colours on an Airbus A319.
It has retained the characteristic red spots but, instead of a representation of the lower-case 'b', the spots are differently-sized and form a square pattern.
Brussels Airlines says this new logo represents the "diversity" of its customers, destinations and employees. "No dot is alike," it says.
The 'Brussels' part of the carrier's name has been given greater prominence in the design.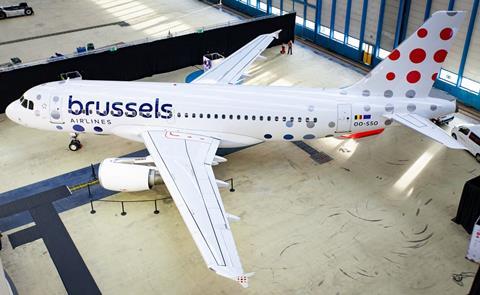 Brussels Airlines states that it accelerated a restructuring and transformation plan last year, as a result of the crisis, and the changes will "clearly mark" its new phase of development into a "healthy, profitable airline".
"With this new brand identity, we are ready to show our customers, our employees, our partners and all other stakeholders that we are turning a page," says chief executive Peter Gerber.
"We see this new brand identity as a symbol of confidence in our company, re-emphasising our identity as Belgium's home carrier."
Brussels Airlines head of marketing Michel Moriaux adds that the measure is a "very logical step".
"We are changing into a new company, with new cabin interiors, digitised processes, fleet renewal with [Airbus] A320neos on the way, and much more to come," he says.