Canadian operator Air Inuit has introduced the first Bombardier Dash 8-300 to be fitted with a large cargo door, six years after being identified as the launch customer for the modification.
The aircraft (C-GAIW) is a 1991 airframe, originally a passenger aircraft whose operators have included Sabena and LIAT.
Air Inuit says the customised aircraft has undergone more than 36 months of design, retrofit and testing work and received certification from Transport Canada on 3 February.
The airline says the modification – featuring a 2.74m by 1.73m aft freight door – is a "world first".
Chief executive Christian Busch says the innovation has been driven by recognition of "specific challenges" presented by the airline's network which includes 14 settlements in remote regions of northern Quebec.
The airline states that the aircraft will eventually be able to facilitate palettes, shortening loading and unloading times and reducing the risk of damage to perishable cargo.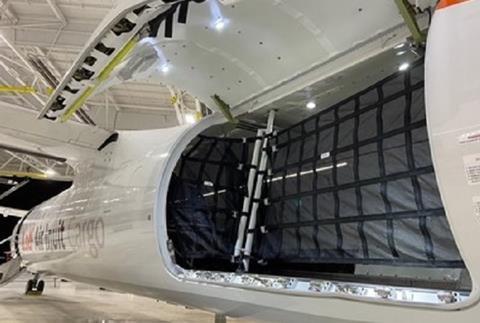 Air Inuit introduced the turboprop with a flight from Montreal on 8 February, operating to northern Canadian settlements including Tasiujaq and Inukjuak.
The carrier says it will be able to deliver oversized goods – such as all-terrain vehicles – to areas without road access.
"This one-of-a-kind addition helps Air Inuit fulfil its mission to serve and develop communities across Nunavik and beyond," it adds.
Quebec's Fonds Vert fund has supported development of the aircraft, which will succeed older cargo types such as the British Aerospace HS748 which Air Inuit phased out several years ago.
Rockwell Collins has provided technical support for the modification.
Bombardier disclosed in early 2016 that it was working with the airline to create a large-door freighter version of the Dash 8-300, with capacity to transport over 5.6t, indicating at the time that three aircraft would be delivered to Air Inuit.