Two senior executives involved with the AirAsia Aviation Group have called for Covid-19 travel restrictions to be further eased, as Thai AirAsia X names a new chief executive officer.
Colin Currie, commercial president of AirAsia Aviation Group parent Capital A, and Bo Lingam, AirAsia Aviation Group chief, contend that coronavirus testing regimes have to be further eased, particularly in the group's home country of Malaysia.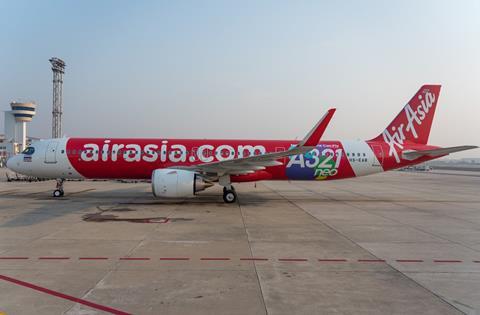 "The majority of the world is now fully vaccinated and a sizable portion has also received booster shots," says Currie.
"Data in the region also shows that the chance of hospitalisation from Covid-19 for those fully vaccinated is very small."
He acknowledges the first steps Southeast Asian governments have made in opening borders after being all but entirely closed since early 2020. Still, he believes that testing requirements, extra paperwork, and coronavirus-related travel insurance still pose "onerous deterrents" to travel.
Lingam observes that in many Asian countries the cost of Covid-19 tests can exceed the cost of some tickets offered by AirAsia.
Lingam also takes aim at the bureaucratic hurdles travellers in the region face.
"Another key issue faced by air travellers is the additional paperwork and various, unstandardized entry applications required by different countries," says Lingam.
"These too should be urgently reviewed as the current processes tend to be duplicative and causing confusion amongst travellers. This is on top of the superfluous Covid-19 travel insurance requirement still imposed by many countries and we would like to applaud Singapore, Cambodia, Australia and India for leading the way by doing away with this requirement in order to draw more visitors to their respective countries."
He also singles out Malaysia for being one of the few countries in the region that still requires travellers to take a Covid-19 test both pre- and post-departure. He calls on Kuala Lumpur to "urgently reconsider" this measure.
Separately, Thai AirAsia X has named Patima Jeerapaet as chief executive officer, succeeding long-time chief executive Nadda Buranasiri, who will assume an executive advisory role at the company.
Jeerapaet comes from outside the sector, and he previously served as president of the Thailand Automotive Institute. His appointment took effect on 1 April.
Thai AirAsia X says that he will oversee the long-haul, low-cost carrier's post-pandemic growth strategy, which includes the resumption of services from Thailand to Japan and South Korea.