Strong cargo revenue and recovery passenger traffic have propelled Korean Air to a record high operating profit for the first quarter of 2021.
Korean generated an operating profit of W788 billion ($628 million) for the first three months of 2022, up six-fold from a year earlier, with revenues climbing 60% to W2.8 trillion, according to the company's results.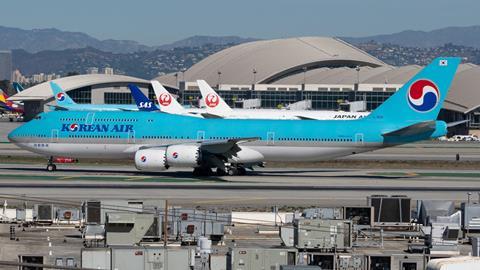 The airline also swung to a net profit of W543 billion, compared with a net loss of W288 million a year earlier. Operating expenses during the first quarter rose 24% to W2 trillion, with fuel costs doubling.
Korean continued its string of strong cargo results, with cargo revenue jumping 59% to W2.1 trillion. Passenger revenue, long depressed by travel restrictions related to the coronavirus pandemic, showed signs of improvement, more than doubling to W360 billion.
The airline warned, however, that there are signs of trouble in the buoyant cargo market.
"Uncertainties in the air cargo market persisted due to various external factors such as global supply chain bottlenecks, reduction in capacity on Europe routes and high fuel prices," says the carrier.
"Korean Air is taking pre-emptive measures to maintain its air cargo capacity through close management of ground handling operations and flexible network operations. The airline maximised its revenue through increasing freighter operation rates and using grounded passenger jets on cargo routes."
On the passenger front, ASKs rose 14.4% year on year, but RPKs jumped 100%. Still, first quarter ASKs were 74.2% lower than in the pre-pandemic first quarter of 2019, and RPKs down 85.9%.
Load factors during the first quarter of 2022 came in at 43.6%, up 18.7 percentage points from a year earlier.'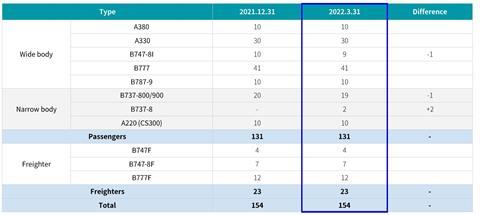 "Although passenger demand remained sluggish due to the spread of the COVID-19 Omicron variant, demand is gradually recovering as countries ease their entry restrictions one by one," says the carrier.
It notes that on 21 March Korea has lifted mandatory quarantine for fully vaccinated travellers, and that its passenger business is expected to recover quickly in 2022 as countries continue to ease travel restrictions.
"Recovery in global passenger demand is foreseen to gradually boost global air cargo capacity, but instability in regional air cargo markets is expected to persist due to major Chinese city lockdowns and the war in Ukraine," it adds.
Korean Air notes that its Asiana Airlines acquisition is advancing, and that the deal received Korea Fair Trade Commission approval in February. This paves the way for Korean to acquire 63.9% of Asiana, with the integration of Asiana to follow in two years.