Canadian carrier Cargojet Airways has emerged as the launch customer for the Boeing 777-200LR freighter conversion initiated by US-based Mammoth Freighters.
Cargojet is to take a pair of the converted twinjets, and will hold options on another pair – as well as options for two conversions of the larger 777-300ER.
The first aircraft to be delivered to Cargojet will be a modified 777-200LR with serial number 29742, originally delivered to Delta Air Lines in 2009.
Mammoth says the twinjet, fitted with General Electric GE90 engines, will enter the conversion process in mid-2022 and be delivered in the second half of 2023.
The company unveiled its conversion programme for the two 777 models in September, noting it had acquired access to a feedstock of Delta 777-200LRs.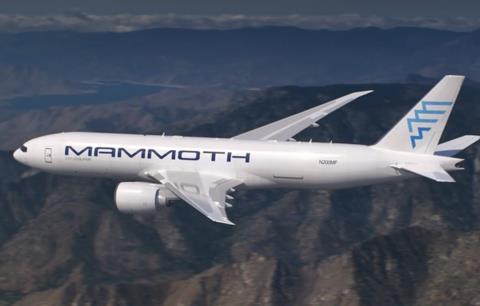 Mammoth's freighter conversions will carry the -200LRMF and -300ERMF designations.
Cargojet's agreement will enable Mammoth to "demonstrate the significance" of its product, says Mammoth co-chief Bill Tarpley.
"This is the next generation of converted freighters that have improved on-wing performance while using less fuel and emitting less carbon than the current ageing widebody fleet."
Cargojet, which operates from Hamilton airport near Toronto, has a fleet of over 30 freighters, mainly based on Boeing 767-200, -300 and 757-200 platforms.
It had stated earlier this year that it intended to acquire 777 freighters but, at the time, had not signalled whether they would be new-build or converted aircraft.
Cargojet said it would use the 777s on long-haul Asian routes, integrating them with the airline's domestic network.