Canadian operator Cargojet has signed for conversion of four Boeing 777-300ERs into freighters, through an agreement with Israel Aerospace Industries.
The Israeli firm has been developing a freighter modification for the twinjet type, a programme initiated in co-operation with US lessor GECAS – since acquired by AerCap.
Cargojet is taking the aircraft to address "growing global demand" for freighter capacity, according to IAI.
It adds that, along with the four 777-300ER conversions, the airline is placing additional options.
IAI has not specified the precise value of the agreement, but indicates it will be worth "tens of millions" of US dollars.
Cargojet had previously signed to launch another 777 conversion programme, that of US-based Mammoth Freighters.
The carrier was identified, towards the end of last year, as the initial customer for the company's 777-200LR conversion, with a commitment for two and options for two more.
It also held options for conversion of two 777-300ERs, a modification which Mammoth also planned to offer.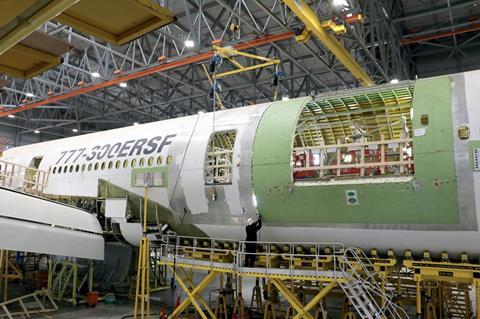 Cargojet senior vice-president for maintenance and engineering Paul Rinaldo says IAI is an "important aviation partner" and its 777-300ER conversion supports the carrier's international expansion and "further strengthens" the two companies' relationship.
Selecting IAI to provide 777-300ER freighters, adds the Israeli firm's chief, Boaz Levy, is a "testament to the trust and customer satisfaction" of its conversion process, as well as the final product.
"We have been experiencing a rise in demand for converted cargo aircraft," he says. "The rise in e-commerce, coupled with the pandemic, has resulted in cargo aircraft becoming a central player in the world of aviation."
IAI's first 777-300ER conversion, for AerCap, will be completed this year, the firm states.