Romanian budget carrier Blue Air appears set to undergo a reverse takeover by an entity called Ridgecrest, following a preliminary agreement to acquire the carrier's parent Airline Invest.
Airline Invest, which is owned by entrepreneur Cristian Rada and his brother, wholly-owns Blue Air Aviation and Blue Air Technic.
Ridgecrest has entered a non-binding heads of agreement which it intends to evolve into a legally-binding share-purchase deal.
It says the proposed transaction will be "satisfied entirely" by issuing just over 9 billion new shares in the company to Cristian Rada and his brother, following which Ridgecrest would change its name to Blue Air Group.
Bucharest-based Blue Air launched operations towards the end of 2004 and has built a fleet of around 20 Boeing 737s, operating multiple variants from the older 737-500 to the -800 and the new 737 Max.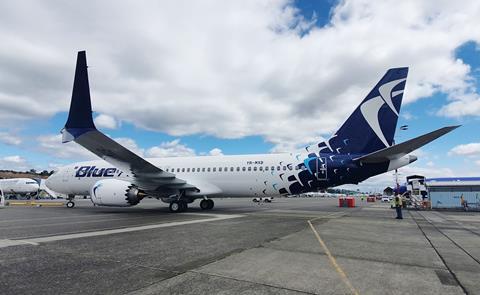 Ridgecrest was formerly known as recruitment consultancy Nakama Group until it disposed of its operating businesses at the beginning of this year and became a cash shell company.
Under the rules of the AIM market on which Ridgecrest is listed such a company has a limited period to make an acquisition constituting a reverse takeover.
Ridgecrest says the proposed acquisition of Airline Invest remains subject to several conditions, including completion of fundraising by Blue Air and completion of necessary due diligence, as well as Ridgecrest shareholder approval for the proposed share purchase.
The transaction also depends on raising of an "appropriate amount" of new equity funds, says Ridgecrest, and readmission of the enlarged share capital to trading on the AIM market.
"It should be noted that the proposed transaction is at a preliminary stage," it adds. "There can be no guarantee that it will complete nor as to its final terms."
Blue Air has an "extensive route network", says Ridgecrest, as well as its own maintenance facilities, and was profitable at pre-tax level for the pre-pandemic year ending 30 September 2019.