Cathay Pacific appears to have converted a pair of Airbus A350-1000s to the smaller -900 variant, the Hong Kong-based carrier's half-year accounts indicate.
Airbus's backlog figures to the end of July show Cathay had ordered 46 A350s, a mix of 26 A350-900s and 20 of the larger -1000s.
It has received all but four of the -900s and eight -1000s.
But Cathay's first-half financial results state that the airline has outstanding orders for six of each variant, indicating a conversion of two -1000s to -900s.
Cathay had been a customer for 36 A350-900s and, in 2012, crucially became the first to commit to the A350-1000 after the twinjet underwent a substantial redesign.
The airline converted 16 of the -900 orders to the larger variant and underpinned its confidence in the aircraft by adding direct orders for 10.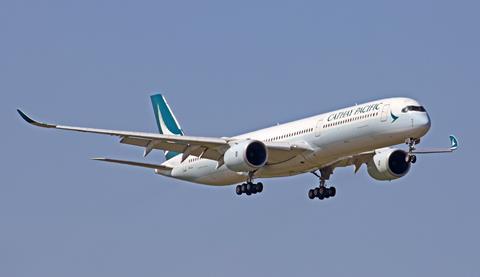 But it opted in 2017 to trim back the -1000 commitment after converting six back to the -900.
Cathay currently has 22 A350-900s and 12 -1000s either owned or on finance lease, plus another pair of -900s on operating lease.
At the end of last year it was scheduled to receive four -900s and three -1000s in 2020, with the final five -1000s arriving in 2021. But the carrier has been rejigging its schedule to broaden the delivery timeframe for the remaining A350s, stretching it to 2023.