Cathay Pacific Airways swung to an operating profit of HK$3.5 billion ($450 million) in 2022, in a year marked by Hong Kong's abrupt abandonment of travel restrictions related to the coronavirus pandemic.
Revenues jumped 12% to HK$51 billion in the 12 months to 31 December 2022, and net losses widened to HK$6.5 billion, according to the carrier's full-year financial results.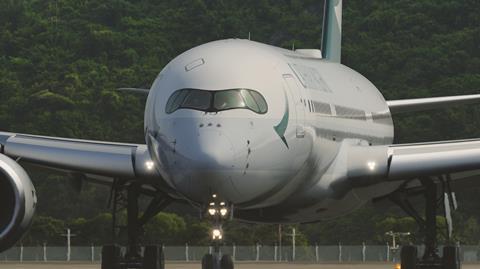 Cathay notes that its second half was significantly better than its first half, and that the poor net result was largely due to weakness at associates during 2022.
Associates that contributed to Cathay's net loss included low-cost unit HK Express, which reported a net loss of HK$1.4 billion in 2022. Cargo handling unit Cathay Pacific Services and Cathay's stake in 18.1% stake in Air China also contributed losses.
Cathay chairman Patrick Healy describes 2022 as a year of "two halves." While the Omicron variant of Covid-19 led to stringent travel and operational restrictions during early 2022 in both Hong Kong and China, conditions eased from 1 May. Cathay benefited in September when Hong Kong's quarantine measures were altogether dropped.
Chief executive Ronald Lam describes big capacity growth in the fourth quarter, with Cathay and low-cost unit HK Express adding 3,000 flights during the period. By the end of 2023, Cathay was flying to 58 destinations, compared with 29 in January.
The year saw ASKs double from 2021, while RPKs more than tripled. Passenger load factors in 2022 shot up 42.5% on year to 73.6%.
During 2022, Cathay's ASKs on American routes jumped 41% while those on European roues jumped 83.3%. ASKs to North Asia and Southeast Asia doubled, while ASKs to South Asia, the Middle East, and Africa climbed six-fold.
For most regions, the Hong Kong government had travel bans in place during the first part of 2022.
FTKs in 2022 fell 19% and RTKs fell 16.5%. Cargo load factors declined 10.8 percentage points to 70.6%. Cathay attributed its weak cargo performance to Covid-19 related crew quarantine requirements during the first four months of 2022.
As of 31 December, cash and cash equivalents stood at HK$7.3 billion, down from HK$8.6 billion at the end of 2021.
"As we put the past few challenging years behind us and move into a new phase, our focus is now firmly on rebuilding Cathay Pacific for Hong Kong," says chief executive Ronald Lam.
"We are reconnecting Cathay Pacific with Hong Kong, as well as reconnecting Hong Kong with the world."