OTT Airlines, the newly-launched subsidiary of China Eastern Airlines, will begin operations with a fleet of three Comac ARJ21 regional aircraft.
The carrier, which will be based at Shanghai Hongqiao airport, has also employed 73 staff members so far, including 10 pilots, 10 cabin crew, as well as 18 maintenance personnel.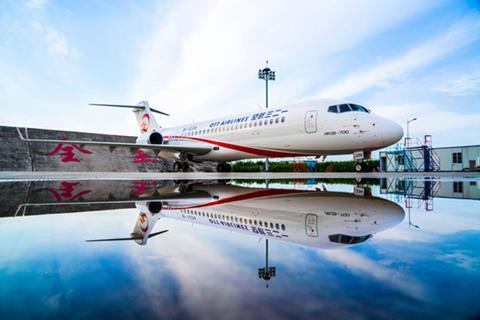 The Civil Aviation Administration of China (CAAC) stated on 9 December that has completed a preliminary review of the carrier's application for an operating licence, and provided further updates on OTT's preparation work.
Neither the CAAC nor China Eastern have indicated when OTT would commence operations.
However, the CAAC states that the carrier has already formulated its articles of association, and has signed office space lease and airport use agreements with the Shanghai Airport Group, which manages Shanghai Hongqiao.
OTT launched in February, mainly to operate Chinese-made aircraft, including the Comac ARJ21 regional jet and the C919 narrowbody.
It took delivery of its first ARJ21, registered B-123A, in late June, alongside compatriots Air China and China Southern.