China's three largest carriers reported a new low for their full-year passenger traffic, a reflection of the impact of country's long-drawn 'zero-Covid' battles.
Traffic data from the 'Big Three' – comprising Air China, China Eastern Airlines and China Southern Airlines – show that in 2022, passenger numbers, capacity and traffic all fell significantly year on year, as well as against pre-pandemic levels.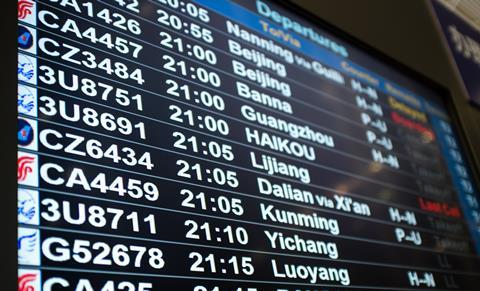 Throughout 2022, China battled multiple waves of coronavirus infections, which, coupled with its hardline zero-infection stance, heavily impacted overall travel demand. Beijing subsequently announced plans in late 2022 to drop most pandemic curbs by the new year, though the move led to to a spike in domestic infections.
For the year to 31 December 2022, Air China carried around 38.6 million passengers across its network, a 44% decrease year on year. Against pre-pandemic 2019, where Chinese operators benefited robust travel demand, Air China's passenger numbers plunged about 66%.
Traffic, measured in RPKs, fell 42% for the year, while capacity shrank about 37%. As at end-2022, the Beijing-based carrier only operated about 33% pre-pandemic capacity system-wide.
Meanwhile, China Eastern carried 42.5 million passengers for the year, down 44% year on year.
Full-year RPKs fell 44% year on year, while capacity shrank 40%. The SkyTeam carrier's capacity by end-2022 was just 36% pre-pandemic levels.
As for China Southern, the airline flew about 62.6 million passengers, about 36% lower year on year. Compared to 2019 data, the airline saw passenger numbers plunge 59%.
Full-year traffic was down 33% against 2021, while capacity fell about 28%. Against pre-pandemic 2019, capacity was down 55%.
In their respective traffic results, the 'Big Three' did not discuss their traffic outlook for 2023, though China Eastern warns that the coronavirus pandemic still has a "significant impact" on its business.
Story amended with correct passenger numbers for China Eastern Airlines.