China's three largest carriers saw a decline in December domestic traffic amid the fast-growing spread of the Omicron variant of the coronavirus in the country, though traffic for the full year inched up slightly against 2020's lower base.
The 'Big Three' — comprising Air China, China Eastern Airlines, as well as China Southern Airlines — reported decreases in domestic passengers carried against the same period in 2020. However, they carried more passengers in December than in November.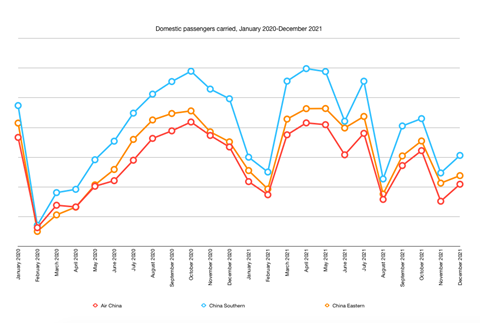 Air China carried 4.2 million domestic passengers during the month, more than 37% lower year on year. Against November, it represented a 39% jump.
Domestic traffic fell 38% year on year, while capacity decreased nearly 34%. Compared to November, Air China's domestic traffic levels rose 40%, with capacity increasing 32%.
Meanwhile, China Eastern carried 4.76 million domestic passengers in December. This was 32% lower year on year, but a 12% increase month on month.
Against December 2020, the Shanghai-based carrier saw domestic traffic fall 32%, with capacity dipping 21%.
As for China Southern, it carried 6.1 million domestic passengers, representing a 38% decline year on year, but was nearly 24% higher compared to November.
The Guangzhou-based carrier reported a 38% drop in traffic year on year, as well as a 32% decrease in capacity. On a month-on-month basis. China Southern saw traffic rise 29%, and capacity increase 26%.
FULL-YEAR TRAFFIC SEES MUTED RECOVERY
As for the full year, the 'Big Three' reported slight increases in domestic traffic, an indication that the sector is far from being out of the woods and achieving full recovery.
Air China carried nearly 68 million domestic passengers in 2021, a marginal 3% uptick against 2020. Full-year domestic traffic rose 4.5%, while capacity increased 7.7%.
China Eastern reported a 9% rise in full-year passenger numbers to 78.5 million passengers, with domestic traffic increasing nearly 11% and capacity rising 16%.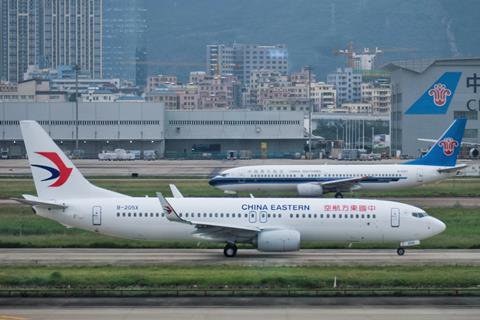 China Southern carried 97.7 million domestic passengers in 2021, representing a 4% increase compared to 2020. It reported a 5.8% increase in domestic traffic, and a 5.9% rise in capacity for the full-year.
Of the 'Big Three', only China Eastern provided some form of discussion about the threat of the Omicron variant.
The SkyTeam carrier states: "In December 2021, with the increasing number of additional confirmed cases of novel coronavirus disease worldwide and in the wake of Omicron variant reported in several countries and regions, the pressure on China for preventing the importation of cases continued to grow. The Covid-19 pandemic in China is still characterised by the coexistence of localised outbreaks and mass gatherings."
China remains one of the last few major economies in the world to still pursue a zero-infection strategy, even while other countries have treated it as endemic.
Consequently, its international borders remain tightly shut — and only likely to reopen from 2023. Domestic travel has also seen disruptions caused by swift lockdowns imposed to limit the virus' spread.