China's three largest carriers — Air China, China Eastern Airlines and China Southern Airlines — continued their impressive domestic traffic growth in April, reporting threefold increases in passenger numbers.
Each of the 'Big Three' also saw domestic capacity, measured in ASKs, double year on year, amid a return to relative normalcy in the country after battling the coronavirus outbreak.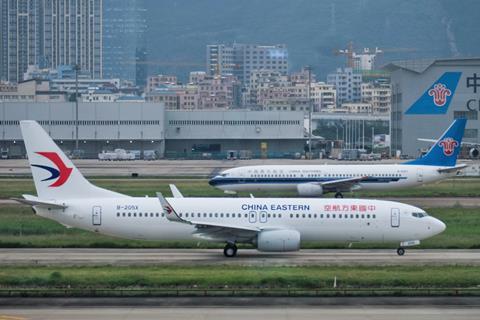 The tail-end of April also saw a surge in traffic, as China entered the 'Golden Week' holiday which began on 1 May. Ticket booking data from several Chinese travel sites show that forward bookings for the week-long holiday were hit record highs, including flights departing at the end of April.
The Civil Aviation Administration of China had previously disclosed that for the northern summer season this year — which began on 31 March — Chinese carriers were expected to add more than 300 new routes, with the average number of domestic flights a day hitting 13,000, a 6.6% increase year on year.
In April, Air China carried 8.3 million domestic passengers, slightly more than thrice the number flown year on year. The number is also an 11% increase compared to March.
Domestic traffic — measured in RPKs — also trebled year on year, while capacity saw a near-threefold increase.
China Eastern, meanwhile, flew 9.3 million passengers in April, nearly 3.5 times the amount carried in the same month in 2020. The SkyTeam carrier saw RPKs increases about 2.5 times, while capacity tripled year on year.
As for China Southern, it carried nearly 12 million passengers in April — a threefold rise year on year, and nearly 8% higher than March.
Traffic grew threefold, while capacity increased about 2.5 times year on year.