Kuwaiti carrier Jazeera Airways is looking to double its fleet over the next four to five years, confident that it has the resources to recover from the air transport crisis despite the heavy financial impact on its operations.
Jazeera has turned in a full-year net loss of KD26.4 million ($87.3 million) for 2020 – contrasting sharply with the previous KD14.9 million profit – after revenues fell 60% to KD41.4 million.
It points out that it recorded several one-off charges, totalling KD15 million, including maintenance restructuring of KD4.8 million and fuel hedging of KD1.6 million.
The airline's dedicated terminal at Kuwait City generated a KD1.4 million loss against the previous year's KD1.2 million profit.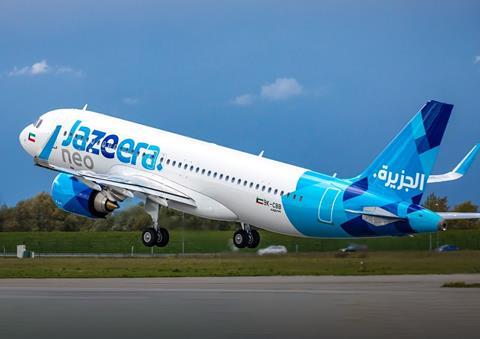 But the company states that it has a "reasonable expectation" of having sufficient resources to continue operations for the foreseeable future. Its liquidity is "sound" at KD19 million, the company adds.
While Kuwait is still suspending travel from 35 countries, Jazeera is optimistic of a "gradual recovery" over the course of 2021, with an easing of travel to the emirate.
It plans to take delivery of four new Airbus A320neos this year, one of which was delivered during the first quarter.
Jazeera has outlined a strategy to take its fleet from 17 aircraft in 2021 to 30 in 2025, and extend its network from 42 to 69 destinations. The carrier also signals that it plans to expand cargo operations.