Scottish regional carrier Loganair has generated a full-year pre-tax profit of almost £5 million ($5.6 million), reversing the previous year's £5.6 million pre-tax loss.
Loganair obtained revenues of £161 million after transporting over 910,000 passengers in the 12 months to 31 March 2022.
The airline made losses for the previous two years as a consequence of the pandemic.
"It has, without doubt, been an incredibly tough two years," says chief executive Jonathan Hinkles.
But he says the trading performance and balance sheet leave the company "wholly confident" that it is "in the strongest position of any UK regional airline" to cope with economic storms.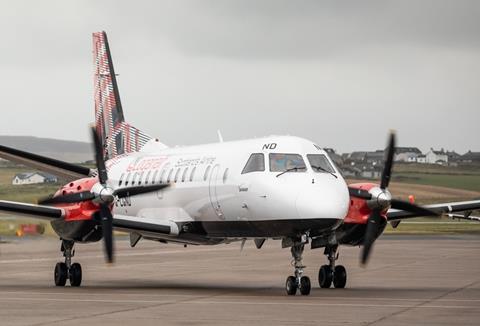 Loganair states that its charter and contract operations have played an "important role" in returning the company to profitability.
These operations have included energy industry support at Aberdeen as well as a number of aircraft charter services for sports teams.
Loganair has also secured a five-year contract – in place since February – to conduct postal transport to the Scottish islands, as well as offering connections to the UK mail network at night.
It has introduced four ATR 42-500 freighters to replace Saab 340 turboprops in order to carry out the work.
Loganair says it has repaid government financial support, granted to stabilise the company during the pandemic, over the course of summer this year.