A court in China has given the green light for the merger of 321 companies linked to troubled HNA Group, including its aviation assets, to speed up restructuring efforts.
The Hainan High People's Court ruled on 15 March that the merger would also ensure "fair compensation" to all its creditors, given that HNA Group effectively controlled the firms.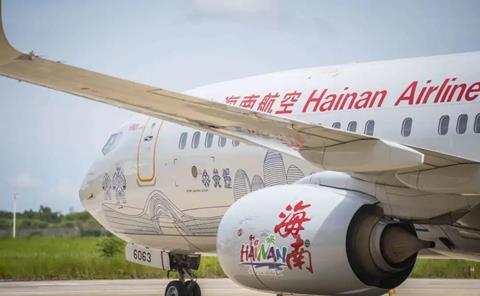 It notes that the liabilities linked to these companies were "extremely large" and would cause "regional and systemic financial risks", which in turn puts "great pressure on local economic and social development".
The court ruling also states: "Substantial merger and restructuring will help save time, manpower and costs, and help accurately verify the assets and liabilities of the enterprise, formulate a more feasible…reorganisation plan, and improve the efficiency and success rate of the reorganisation."
HNA Group, a conglomerate that once held wide-ranging interests in areas such as aviation, technology, and property, received formal notice in late-January that creditors had filed for its bankruptcy, on grounds that it was unable to pay off its debts.
The group, built on the foundations of flagship unit Hainan Airlines, was already struggling as early as 2018, when it was reported that it was facing a liquidity crunch and mired in debt.
The coronavirus outbreak dealt the HNA Group a further blow and by February 2020 it threw in the towel, seeking help from the Hainan provincial government.
The 15 March court ruling, which saw 36 out of 423 parties of interest object to the merger, is the latest step in what could be a long-drawn reorganisation process for the group.
It also comes a month after the same court approved the reorganisation of six HNA Group carriers, including Fuzhou Airlines and Lucky Air.