Indian low-cost carrier IndiGo slipped to a net loss of Rs8.7 billion ($116 million) in its fiscal fourth quarter, from a near-Rs6 billion net profit a year ago, as Covid-19 flight restrictions "significantly impacted" revenue.
The Indian low-cost carrier's parent company, InterGlobe Aviation, reports that it incurred a full-year net loss of Rs2.3 billion in the 12 months ended 31 March. This compares with a Rs1.56 billion net profit in the corresponding period last year.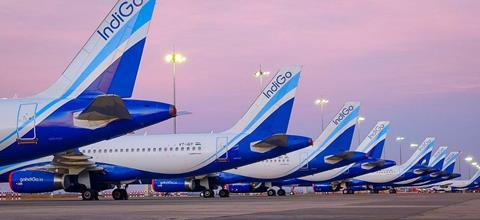 Revenue in the final quarter of the financial year rose 5.3%, a much smaller climb than the 36% revenue surge reported in the same period a year ago. Total expenses meanwhile increased 30%.
Full-year operating revenue rose 26% to Rs358 billion as IndiGo grew capacity 18.8%. Traffic climbed 18.2%, and load factor narrowed 0.4 percentage points to 85.8%.
IndiGo chief executive Ronojoy Dutta states that the airline is "determined to emerge from this crisis stronger and more energised than ever", with a "more efficient fleet and a lower cost structure".
The airline ended the fiscal year with a total cash balance of Rs204 billion and a fleet of 262 aircraft.