Croatia Airlines recorded 11% more flights over the course of the first nine months of this year, with a 20% increase in turboprop activity offsetting a slight reduction in jet operations.
The carrier operated a fleet of 13 aircraft – including seven Airbus single-aisle jets and six Bombardier Q400s – and conducted 11,728 flights over the nine months to 30 September, of which 69% were with Q400s.
Croatia Airlines says there was a "slight recovery" of the market during the third quarter, owing to the effect of the tourism season, but it says this was "well below" the pre-crisis levels in 2019.
The carrier turned in an operating loss of Kn147 million ($22.6 million) for the nine-month period, and a net loss of Kn167 million – an improvement on 2020 but still far from profitability.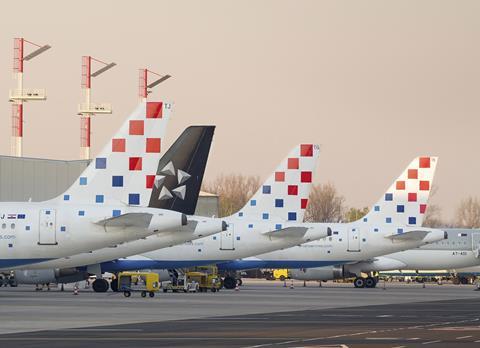 Although "some positive developments" were achieved in the second and third quarters, it says, the reduced demand could "again raise the issue of maintaining liquidity", given the uncertainty over the duration of the situation.
Maintaining stable liquidity in the face of revenue reduction is the "most significant" business risk posed to the carrier, it adds.
Croatia Airlines has been working with consultants to define strategic initiatives and draw up a business plan to recover from the crisis over the next three years.