Croatia Airlines has turned in a full-year net loss of Kn137 million ($19 million) as its performance, while recovering, still lagged pre-crisis levels.
The carrier transported 1.45 million passengers but this figure remained one-third down on that achieved in 2019.
Croatia Airlines says passenger load factor reached an average of 62% last year. It generated income of Kn1.58 billion for the period including Kn1.26 billion from passenger services.
But the airline experienced significantly higher operating expenses, with fuel costs having the "greatest impact", it states, with a negative effect of Kn207 million.
Among other cost effects was the one-off expense incurred with the return of an Airbus A319 to its lessor.
Croatia Airlines recorded an overall full-year operating loss of Kn98.2 million.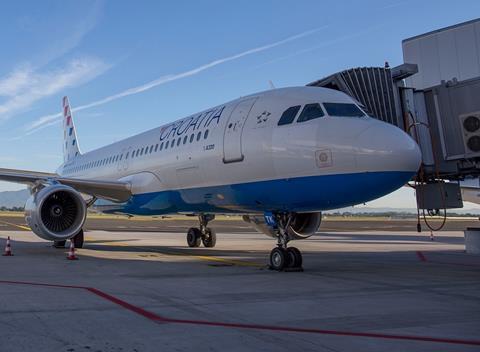 It has been implementing a post-pandemic recovery programme, drawn up in mid-2021, with strategic initiatives over a three-year period which it expects will enable the company to achieve sustainable operations.
The main part of this programme is the replacement of the carrier's fleet with more cost-efficient aircraft.
Croatia Airlines has opted for 149-seat Airbus A220-300s and 127-seat A220-100s, for delivery over the course of 2024-26.
It concluded long-term operating lease agreements in January this year for six aircraft – four -300s and two -100s – with an Irish-based vehicle affiliated with US lessor Air Lease.
Croatia Airlines says it intends to acquire 12 aircraft with the possibility of introducing another three in 2027.