Croatia Airlines has formally ordered six Airbus A220-300, and aims to lease a further nine of the type.
The carrier is intending to build a fleet of 15 of the twinjets under a modernisation programme.
Airbus says the A220s will replace earlier-generation aircraft in the fleet.
Croatia Airlines operates a mix of Airbus A320s and A319s as well as De Havilland Dash 8-400 turboprops.
"It marks the beginning of a new period of aviation, a new period in the life of Croatia Airlines, a new period for our passengers, and a new period for Croatia's tourism and economy as a whole," says the carrier's chief, Jasmin Bajic.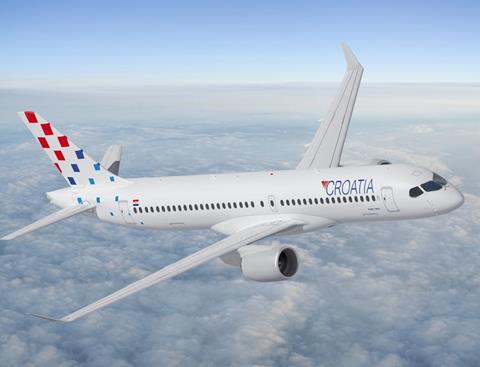 The airline has four A320neos on order but Airbus has yet to confirm whether the A220 agreement supersedes this earlier deal.
Croatia Airlines had recently signalled that it intends to become an all-A220 carrier.
The airline had also disclosed, two years ago, that it was discussing cancellation of its A320neo agreement prior to the pandemic crisis.
Its A320neo order, dating back to 2015, had arisen from the conversion of a previous deal for four A319s, which had lain dormant since 2008.
Croatia Airlines will become a new customer for the A220, which is powered exclusively by Pratt & Whitney PW1500G engines.