Croatia Airlines has managed to reduce first-quarter operating losses to Kn86.2 million ($13.9 million) compared with the previous figure of Kn95.7 million.
Its revenues for the period more than halved to Kn113.6 million.
The company says the beginning of the year has been "weaker than expected", with travel reservations still "declining" on all the routes offered by the carrier.
Croatia Airlines says it is focusing on markets on which there is evidence of demand while continually optimising its schedule.
"The company is ready to establish or renew individual routes and introduce additional flights on existing routes if there is an increase in demand for air transport," it states.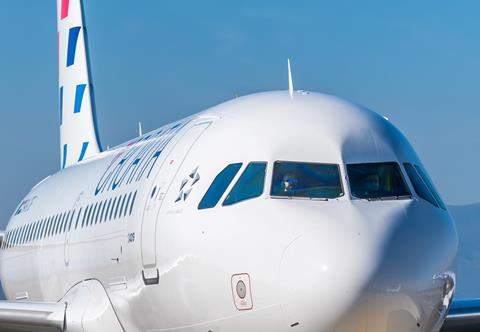 Croatia Airlines was able to operate to 12 international and five domestic destinations over the quarter, but passenger numbers were down by 73%.
The company posted a net loss of Kn96.9 million for the three-month period.
It operated 12 aircraft over the quarter – six Airbus A320-family jets and six De Havilland Canada Dash 8-400s – with particular focus on the turboprops.
Croatia Airlines says it operated only 25 daily flights on average compared with 60 in the previous winter season.
Although the Croatian government adopted a decision in February 2019 to initiate procedures to find a strategic partner for the airline, the crisis effectively brought the effort to a halt.
But the carrier says it, and the government, expect the process to resume "as soon as market conditions allow".