Cyprus Airways is to expand its network to the major European capitals of Paris and Rome, with year-round services from mid-December.
The airline currently operates to seven regional destinations from its Larnaca base: the Greek cities of Athens, Thessaloniki, Rhodes and Heraklion, plus Beirut, Tel Aviv and Yerevan.
It uses a fleet of two Airbus A320s and a single A319.
Cyprus Airways states that it is to broaden its network to Paris Charles de Gaulle from 16 December, operating three-times weely.
It will follow this with a Rome Fiumicino service, flying twice a week, beginning on 20 December.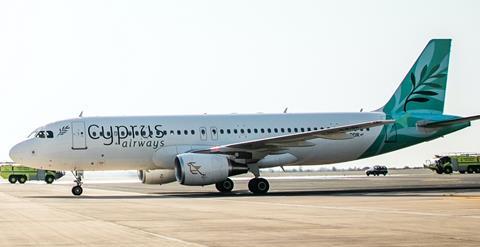 Chief executive Paul Sies says commencing service to the two capitals is part of the airline's strategic plan to "connect Cyprus".
"Both [Paris and Rome] are important gateways for incoming tourism and business travel to Cyprus," he says.
"They are also central hubs with multiple international connection possibilities, thereby increasing Cyprus' connectivity to various global markets."
Cyprus Airways emerged in 2016 as a successor to the island nation's flag-carrier with the same name.
Originally linked to Russian operator S7 Group, it was acquired by new owners last year, the Maltese-based SJC Group.