Cyprus Airways is aiming to modernise its fleet with Airbus A320neos, and take the number of aircraft it operates to 11 by 2026.
The carrier has outlined a strategic plan under which it will conduct services with four A320s next year – doubling its capacity from the current two – and expanding to six aircraft in 2024.
It states that it will introduce the "young" extra jets "with a view to switch" to the re-engined A320neo by 2025, when it intends to be operating nine aircraft, and will increase the fleet to 11 the following year.
Part of the fleet – around a third – will be used for wet-lease and charter operations, the carrier says, enabling it to bring in "steady" revenues.
Cyprus Airways is looking to broaden its network to 18 destinations next year – adding services to Milan, Zurich, Prague, Basel and Cairo – and reach up to 30 by 2026.
It has recently included Paris and Rome on its list of cities.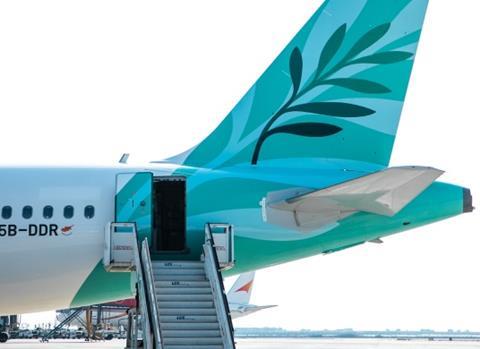 "Cyprus Airways is strategically positioned to connect Europe with Asia, the Middle East and Africa," says chief executive Paul Sies.
"Our plan is based on having a lean organisation, having a strong brand, and ambition to succeed to grow and connect Cyprus structurally to Europe and beyond."
The carrier says 2022 has been a "year of recovery" and that it has undergone a "ruthless" restructuring of its network, operations, and pricing strategy.
Cyprus Airways will operate a hybrid business model, it states, allowing passengers to build up their own travel requirements from a low-cost airline base.
"To offer such scalability of services the airline has embarked on a digital transformation exercise to maximise its ancillary revenue, making sure that customers are always offered the best value for money," it adds.