Czech operator Smartwings Group has formally sought temporary creditor protection to buy time to achieve financial stability during the air transport downturn.
Smartwings Group, which includes both Smartwings and Czech Airlines, says it has filed with a Prague court for an extraordinary moratorium.
The temporary measure provides space to negotiate with banks, aircraft leasing companies and other creditors to find a financing solution which protects the airlines at a time when their revenues have been depleted.
"We believe that the steps we are taking today will help us to successfully overcome this unprecedented crisis," says Smartwings chairman Jiri Simane.
He says loan guarantee applications are "complicated and lengthy" and the moratorium provides time to find a sustainable financing plan that will benefit all parties including creditors, employees and passengers.
"We are exploring all potential financing options to ensure business continuity of both companies," says Simane.
The company has recruited accounting specialist EY to advise on the situation.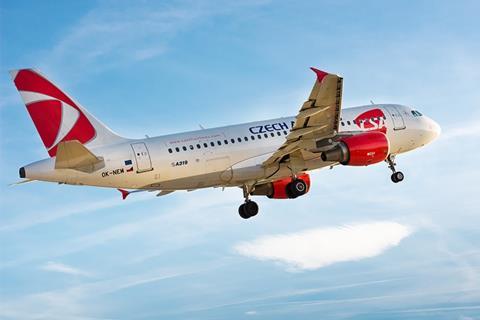 Smartwings Group points out that neither of its carriers has received any state support, and that Czech businesses in the transport and tourism sector did not benefit from the implementation of any government programme early in the crisis.
But it says it intends to take advantage of a scheme developed by the state-owned credit insurance company EGAP.
Both Smartwings and Czech Airlines had been profitable before the crisis, the company states, with pre-tax earnings of Kc183 million ($8.2 million) and Kc79 million respectively last year. The overall group achieved revenues of Kc28 billion in 2019.
But the group's traffic for April-June fell by 95% and was still more than 80% down in July-August.
"Since the onset of the epidemic, Smartwings and [Czech Airlines] have implemented a cost-saving programme and adopted every possible measure to mitigate the negative financial impact of the coronavirus crisis," says Simane.