Danish operator Copenhagen AirTaxi has taken delivery of a pair of Boeing 737-400s for its new leisure charter airline, which has been branded Airseven.
Airseven received the two aircraft on 3 December, with OY-ASA and OY-ASB being delivered to Roskilde airport within about 20min of one another following flights from East Midlands in the UK.
Copenhagen AirTaxi flight operations director Jimmy Arly Larsen says the establishment of the new carrier "adds another dimension" to the company's international activities.
Larsen says Airseven has attracted "huge interest" from pilot and cabin crew applicants, adding that the company's own pilot-training arm could potentially offer students the chance to become qualified on its jets.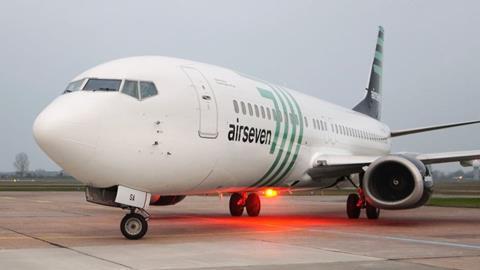 Copenhagen AirTaxi says Airseven is intended to offer holiday and ad hoc charter, as well as wet-lease services, from around the beginning of 2021.
Danish holiday charter company Primo Tours is the main investor in the new carrier, and is set to be its initial customer. Primo Tours owner Bjarke Hansen is the airline's chairman.
But Airseven says talks are being conducted with other prospective users of its services.
The 737s are configured with 168 seats and will fly under Copenhagen AirTaxi's operating licence.
Cirium fleets data shows that OY-ASA was originally delivered to SAS Norge in 1990, while OY-ASB was delivered to Lufthansa in 1992. Both were subsequently transferred to other carriers, but both spent their most recent years with Romanian budget operator Blue Air.
Airseven says it will be an airline characterised by a "high level of service", an "innovative and flexible approach" to its product, and a "highly-competitive cost level".
Although the air transport crisis has yet to start receding, Copenhagen AirTaxi says Airseven is being established to take advantage of progress towards recovery expected in 2021.
Airseven's chief executive is Klaus Ren who was a founding partner and chief of Danish carrier Jet Time for about a decade, until 2016.
Jet Time collapsed earlier this year, attributing its bankruptcy to the evaporation of holiday business resulting from pandemic restrictions during the peak season.