Logistics specialist DHL Express is venturing into electric air transport by ordering a dozen Eviation Alice aircraft for freight operations.
DHL Express expects to take delivery of the first of the 12 aircraft in 2024.
Eviation conceived the Alice as a nine-seat commuter model. But DHL Express head of global air fleet management Geoff Kehr tells FlightGlobal that the carrier wants to explore its cargo potential.
"Not all details are final yet, but DHL Express plans to build several zero-emission Alice feeder networks starting in the US," he says.
"In general, these electric feeder networks could be established anywhere in the world. So we expect more countries to come."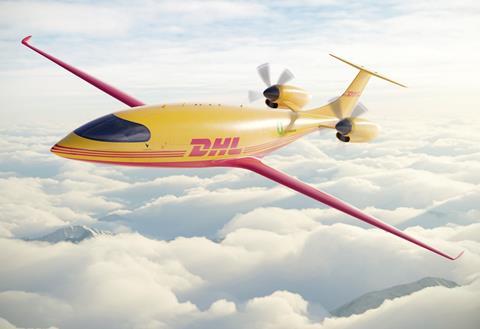 The Alice is scheduled to conduct its maiden flight this year. It has experienced a choppy development, with a prototype aircraft badly damaged by a ground fire in Arizona last year, followed by a radical redesign to feature a twin, rear-engined configuration and swapping the V-tail for a more conventional T-tail.
Planned to be capable of carrying 1.2t of freight, with a maximum range of 440nm, the aircraft will need 30min charging for each flight-hour – which can be carried out during loading and unloading, the carrier says, enabling it to meet "tight schedules".
DHL Express is not disclosing any financial or contractual details of the order, including the extent to which it depends on the Alice meeting certain range or other performance thresholds.
But Kehr says the aircraft, operated by a single pilot, could potentially succeed conventionally-fuelled types within its operation or be used for expansion to "open up" opportunities in new markets. DHL Express says the Alice is "ideal" for feeder operations and needs "less investment" in station infrastructure.
"Partnering with companies like DHL who are the leaders in sustainable cargo transportation is a testament that the electric era is upon us," says Eviation chief executive Omer Bar-Yohay, who describes the order as a "significant milestone" in its efforts to "transform the future of flight".
Alice's range and capacity make the aircraft a "fantastic sustainable solution" for the network, says DHL Express executive vice-president for global network operations and aviation Travis Cobb.
"Our aspiration is to make a substantial contribution in reducing our carbon footprint, and these advancements in fleet and technology will go a long way in achieving further carbon reductions," he adds.