Germany's DHL International is ordering conversion of up to four Boeing 767-300ERs to freighters to gain additional cargo capacity in the wake of the coronavirus crisis.
The twinjets are set to be converted at the facilities of Israel Aerospace Industries.
Neither DHL nor IAI has detailed the airframes involved in the conversion. The agreement covers modification of three initial aircraft with an option for a fourth.
IAI says the "huge deal" is valued at "tens of millions of dollars" and follows increased demand for cargo capacity as a result of the coronavirus outbreak.
No timeline has been given for the conversion.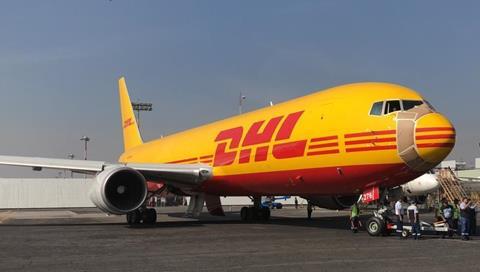 Deutsche Post DHL Group is scheduled to give an investor briefing on 22 June indicating how its fleet has increased from around 150 to some 200 aircraft since 2010, with a shift towards a higher proportion of ownership rather than leases.
The company has started receiving the first of 14 Boeing 777Fs it ordered in mid-2018.
It says four of the type were introduced last year, adding that they are "capacity neutral but bring significant cost, efficiency and reliability benefits".
The 777F order resulted in additional capital expenditure last year of €1.1 billion, generating a capital expenditure peak of €3.6 billion. Deutsche Post DHL Group says this expenditure would otherwise have decreased slightly.
"Any further fleet expansion to be carefully considered in line with market growth expectations," the investor briefing states.