Emirates Group has disclosed that it received a Dubai government capital injection of Dhs3.5 billion ($954 million) during the last financial year, in which the company turned in a loss of Dhs3.8 billion.
But the group, which also benefited from Dhs11.3 billion in government aid the year prior, is expecting to return to profitability in fiscal 2022-23.
The company's flag-carrier, Emirates, generated a loss of Dhs3.9 billion but this was a considerable improvement on the previous year's deficit of more than Dhs20 billion, and the airline was profitable in the second half with a surplus of Dhs1.9 billion.
Ground-handling division Dnata managed to achieve profits, with a full-year figure of Dhs110 million – reversing last year's Dhs1.8 billion loss.
Emirates Group says that, along with the capital injection, it obtained relief amounting to nearly Dhs800 million from various industry support programmes during 2021-22.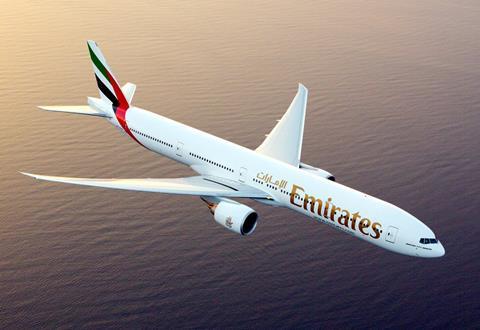 The company's revenues over the year – during which the United Arab Emirates marked its 50th anniversary, and hosted the Expo 2020 show in Dubai – reached Dhs66.2 billion.
"We expect the group to return to profitability in 2022-23, and are working hard to hit our targets," says chief executive Sheik Ahmed bin Saeed Al-Maktoum.
He says business recovery "picked up pace" in the second half of last year, and the company experienced "robust" demand which led to the improvement in its financial performance.
But he adds that the company is "keeping a close watch" on fuel prices and inflation, political uncertainty, and the continuing presence of the pandemic.
Emirates Group has been recalling furloughed staff and recruiting new personnel, and its workforce increased to 85,200 at the year-end – although this was still 20% down on the immediate pre-crisis level.
Al-Maktoum says the year was "not just about restoring our capacity, but also augmenting our future capabilities as we rebuild".