KLM's proposed restructuring plan has been rejected by the Dutch government, over the failure to secure crucial union commitments, and the airline will not be permitted to make further draws on the loans put forward to support the carrier.
The Dutch finance ministry has informed parliament that the first draw on the loan – amounting to €277 million – was made on 26 August, with a €665 million draw on a revolving credit facility on the same day.
But the ministry says the government "will not make a second tranche available" until KLM's restructuring plan meets the "satisfaction of the state".
KLM submitted its restructuring plan on 1 October, but it has been trying to secure commitments from unions over labour contributions which, as a condition of the loan, need to run for the loan's full term.
The airline has been unable to secure these commitments by the 31 October deadline, with the carrier's cockpit union holding back from signing an agreement.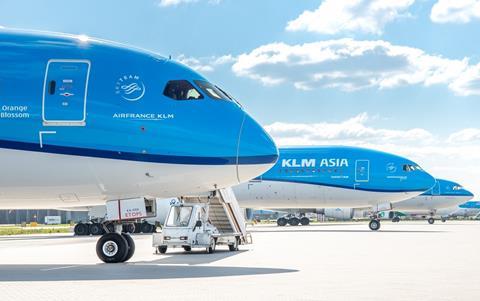 KLM and its unions are expected to adhere to the conditions of the financial support, says the ministry, and the government has informed the airline's board that the Dutch state "cannot approve" the proposed restructuring plan.
The ministry adds that the airline "cannot, therefore, make a subsequent draw" of the direct loan or the credit facility originally made available to KLM.
"It is up to KLM and the unions to ensure that the conditions set are met," the ministry has told parliament, adding that it will provide further information if the situation changes.
Air France-KLM Group has unveiled third-quarter figures showing that KLM made an operating loss of €234 million in the three months to 30 September, and just over €1 billion in the first nine months of this year.