UK regional operator Eastern Airways will wait for sustainable aviation fuel (SAF) to become more widely available before instituting its use in regular operations.
On 15 December, the carrier operated the inaugural flight on its new public-service Newquay to London Gatwick route using an ATR 72-600 fuelled with a 35% SAF blend.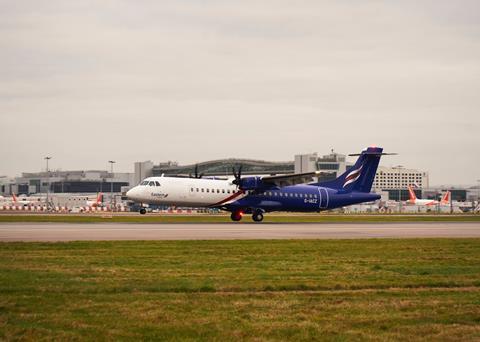 But Adam Wheatley, Eastern Airways managing director, says the price and availability of SAF prevents airlines like his from using it more frequently.
For the Newquay service, the 35% SAF blend – provided by Air BP – was uplifted at Biggin Hill airport in the southeast of England.
"It has to be more widely available for it to be realistic to use SAF," says Wheatley, noting the particular challenge it poses across a network operation.
While a regional airline such as Eastern should be a logical customer for new propulsion technologies such as batteries or hydrogen power given the relatively modest range expected at service entry, Wheatley believes that point is some distance away.
"There is a lot of development still to go on hydrogen before a commercial operator will take it on," he says.
But in the longer term he acknowledges that "we will have to look at it", provided the technology delivers and the supporting infrastructure is in place.
Eastern will initially operate daily return flights on the Newquay-Gatwick route, rising to two daily return services from mid-January 2022.
Although Wheatley says forward bookings are hard to gauge, particularly as the UK sees Covid cases rising rapidly, he is confident the service will be a success, providing vital connectivity between Cornwall and London.
Humberside airport-headquartered Eastern is flying the route under a £1.8 million ($2.4 million) four-year public service obligation contract awarded in November. The route was formerly operated by Flybe prior to its collapse in early 2020.
Meawhile, Wheatley is unperturbed about the potential return of Flybe to the UK regional market following the latter's resurrection.
"We have plough our own furrow. We are a small regional airline and can be fairly nimble and can adapt quite quickly. We will just have to see what they come up with," he says.
For the financial year to 31 March 2021, Eastern recorded a £525,000 operating loss on turnover of £14 million, down on respective totals of £4.3 million and £25 million registered the previous year.