UK budget carrier EasyJet's founder, Stelios Haji-Ioannou, is threatening methodically to dismantle the company's board if it fails to take action to reduce the airline's commitment to additional Airbus jets.
Haji-Ioannou, who has previously expressed concerns over the airline's expansion, has laid out his attack plan in a strongly-worded communication to chairman John Barton, warning that he will instigate a "rolling programme" to remove a non-executive director every seven weeks, starting with Andreas Bierwirth.
He says this process will continue until he is satisfied that directors are "willing and able to carry out their duties" to the company, notably by terminating and – if necessary, renegotiating – the Airbus contract, using 'force majeure' as a justification, given the coronavirus outbreak.
Haji-Ioannou has issued Barton a deadline of midday on 1 April to address the request, describing the outstanding contract for future delivery of 107 aircraft, including A320neo and A321neo jets, as a "risk to survival" in the current situation.
He claims EasyJet will need to pay £4.5 billion to take the jets over the next three years. Owing to the collapse in its share price – more than 60% – since mid-February, the airline's market captialisation has fallen to around £2.2 billion.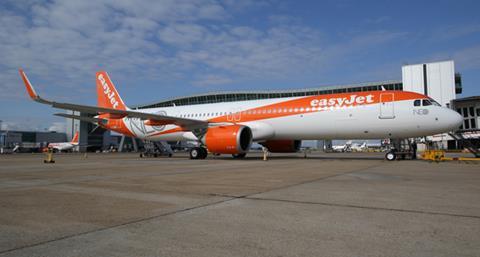 Haji-Ioannou insists the airline "cannot afford" to take the additional aircraft and that, as its largest shareholder, he would rather spend shareholders' funds defending a potential legal action by Airbus than buying aircraft which – in the current situation – will "sit on the ground or fly their passengers at a loss".
Although EasyJet has, like many carriers, withdrawn its financial guidance in the aftermath of the coronavirus crisis, it recently insisted that its balance sheet – including £1.6 billion in cash and an undrawn £500 million credit facility – was strong.
EasyJet has a "large and valuable" slot portfolio, it says, and unencumbered aircraft worth more than £4 billion. It adds that it is discussing liquidity options with lender who "recognise our strength of balance sheet and business model".