EasyJet recorded a loss before tax of £114 million ($137 million) for the three months ending 30 June 2022, as operational disruption had a £133 million cost impact.
Providing a fiscal third-quarter trading update on 26 July, the UK-based low-cost carrier lamented capacity caps imposed by London Gatwick and Amsterdam Schiphol airports, "alongside wider [operational] challenges within Europe", but said that it only removed 5% of its schedule for the three months and that July operations have been "much improved".
Moreover, EasyJet says that it expects the capacity and cost impacts of the disruption to be "a one-off this summer", with "greater resilience" forecast for the 2023 peak travel periods.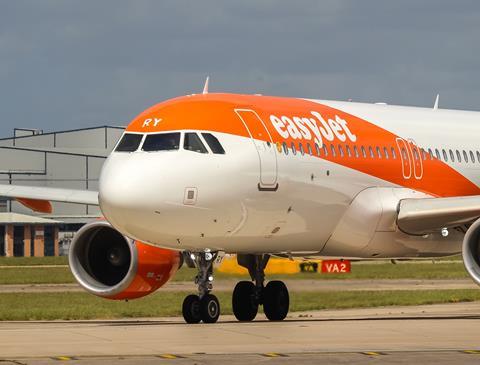 "During the quarter we carried seven times more customers than the same time last year and operated 95% of our schedule," says EasyJet chief executive Johan Lundgren. "We have taken action to build the additional resilience needed this summer and the operation has now normalised."
Lundgren notes that despite the operational challenges, strategic initiatives introduced during the pandemic are starting to produce results, with ancillary yields per passenger up 55% on the same period in 2019. EasyJet Holidays, meanwhile, generated a £16 million profit for the quarter.
Overall, group revenue for the quarter ending 30 June increased to £1.76 billion, from just £213 million in the Covid-hit equivalent period of 2021, while group costs were £1.87 billion – including the £133 million impact of disruption.
The group loss before tax of £114 million was a £204 million improvement on the £318 million loss recorded in the same period of 2021.
EasyJet says that its third-quarter capacity was at 87% of 2019 levels, with load factors at 88%, and that it expects those figures to rise to around 90% in both cases for the July-September period. Sold ticket yield for the latter period is currently 13% up on 2019 and load factors slightly ahead on the same basis, it adds.
The airline highlights fuel hedging of 83% for its fiscal fourth quarter, 60% for the first half of fiscal year 2023 and 33% for the second half, all at significantly below the spot price of $1,090 on 22 July.
EasyJet claims to have "one of the lowest net debts in European aviation" of £200 million on 30 June, including cash and equivalents, and money market deposits, amounting to £3.9 billion.