Israeli flag-carrier El Al has yet to take delivery of its final Boeing 787, while the airline shuffles its current fleet as part of efforts to reduce cash burn.
The carrier's rejig includes cancelling a lease for two more Boeing 737-800s, it has disclosed in a newly-released full-year financial statement.
El Al has 12 787-9s – four owned and eight leased – plus three owned 787-8s, with a fourth and last due to have been delivered in March.
The airline says it has not received the aircraft, and has extended to the end of June a loan for paying advances.
El Al had signed a $122 million financing agreement for the twinjet in February. The funding is structured as a JOLCO, the airline says.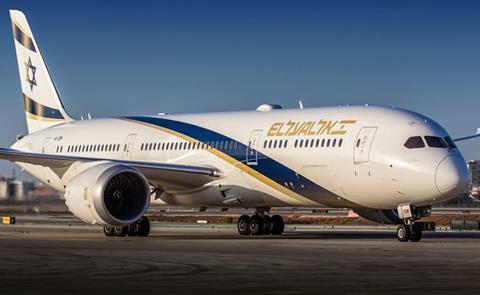 The carrier had signed six-year leases for three 737-800s in November last year, one of which was delivered in February.
But El Al says it has notified the lessor that it is cancelling the agreement for the two outstanding aircraft which were also due to enter service this year.
Three other 737-800s in the El Al fleet have already become the subject of a sale and leaseback agreement tentatively reached in April.
El Al had recently completed a renewal of 737-800 interiors, increasing the number of seats and installing features such as wi-fi and USB jacks.
It also embarked on a programme in January to increase premium seating in its 787-9s, while reducing the number of economy seats on the type.
As it negotiates an urgent $400 million loan with lenders and the Israeli government, El Al has prepared a draft business plan, covering several potential scenarios for the return of passenger operations as the crisis recedes.
It includes a "streamlining" of labour costs as well as other expenditure, the airline says.
But while the plan assumes a "gradual and limited operation" of the fleet, El Al stresses that it depends on various influences outside the company's control, notably the development of the epidemic and countries' decisions on lifting restrictions.
There is no certainty that the critical loan will be signed, it adds, and an agreement is conditional on reaching a new collective pact with employees, completion of the sale and leaseback deal, and release of cash from a central compensation fund linked to the carrier's privatisation.